TROJAN Renewable Energy Batteries
#1
Trojan Battery Dealer In The USA
Call 888-737-5681 for a Battery Expert
USA Battery Sales can supply Trojan batteries for all your battery needs:
Golf Car, RV, Marine, Solar & Wind Energy, Floor Machine, Man Lift, Aircraft Tug & Truck.
SOME BATTERIES ARE NOT STOCKED AT EVERY WAREHOUSE LOCATION.
PLEASE CALL US @ 888-737-5681 PRIOR TO PLACING YOUR ORDER SO WE CAN MAKE SURE THE BATTERY YOU ARE ORDERING IS IN STOCK AT THE NEAREST WAREHOUSE TO YOUR LOCATION.
THIS WILL INSURE PROMPT DELIVERY TO YOUR LOCATION
New York, New Hampshire, New Jerseys, Rhode Island, Maine, Massachusetts, Delaware, Connecticut, Vermont, Pennsylvania, Ohio,

West Virginia and Virginia

.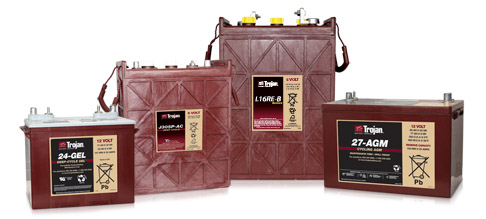 Energy Storage Solutions for Off Grid
In locations where access to grid power is unavailable or not economically viable, off-grid renewable energy systems provide continuous power for many applications. Off-grid systems designed for residential, community and industrial applications depend upon deep-cycle batteries to provide consistent, reliable access to power under a wide range of environmental conditions. Trojans deep-cycle, batteries are engineered to deliver the consistent performance required by off-grid systems.
Energy Storage Solutions for Off Grid - Residential Remote Applications
Homes located in remote areas without access to grid power often depend on off-grid renewable energy systems to satisfy their power requirements. For these hybrid, solar and wind powered systems energy storage plays a critical role in providing uninterrupted power when the sun does not shine or the wind does not blow.

Being without power is why the selection of batteries for these systems is one of the most important choices a homeowner can make. Trojan's line of deep cycle flooded, AGM and gel batteries are engineered for the longer life requirements of residential remote renewable energy systems. With Trojan?s energy storage solutions, homeowners can optimize their renewable energy systems and dramatically reduce operating costs when powering their homes in remote areas. Whether homeowners use solar panels or wind turbines, Trojan battery back-up power products provide reliable, cost-effective energy storage when living off the grid.

Renewable energy applications operate under challenging conditions such as fluctuating or extreme temperatures, remote locations and the intermittent nature of solar and wind power generation. Designed with a 10-year battery life, Trojan Batterys Premium line of flooded deep-cycle batteries is specifically engineered to withstand the rigorous conditions of renewable energy applications. The Premium line incorporates advanced battery features such as Trojans DuraGrid?, MaxGuard® XL separator and Alpha Plus® Paste technologies that provide superior performance, rugged durability and exceptionally long life. Our product strategy is focused on one simple objective manufacture the highest quality battery available in the industry, which is why our Premium line is tested to IEC standards.
Trojan's Premium Line of deep-cycle flooded batteries is specifically engineered to withstand the rigorous conditions of renewable energy applications. Available in 2-volt and 6-volt sizes, the Premium line incorporate advanced features and benefits unmatched in the industry.

Alpha Plus® Paste with T2 Technology optimizes porosity development in the active material which enables the active material to be used more effectively resulting in sustained battery performance over a longer period of time.
DuraGrid Design provides a thick grid structure that resists corrosion and when combined with the Alpha Plus Paste with T2 technology increases overall battery life.

Maxguard® XL Separator is exclusively available in Trojans Premium and Industrial lines. It features a wide-channel design which increases acid flow for optimum battery performance and provides even greater resistance to stratification, a typical mode of failure in batteries used in renewable energy systems.

Polyon container is Trojans ultra-rugged case design which protects against damage caused by harsh environmental conditions such as moisture and dirt buildup and safeguards against potential acid leaks.